Division 7A Loan Agreement 
This agreement includes documents regarding borrowing money from a private company which can have serious pitfalls if not done correctly. Directors and shareholders often borrow money from their companies. Care must be taken so that the Australian Taxation Office does not deem these loans to be dividends.
Division 7A of the Income Tax Assessment Act 1936 ('the Act') requires such loans to be 'arm's length'. The rules are stringent and require a special type of loan agreement known as a Division 7A loan agreement.
The Act is aimed at preventing private companies from making tax-free distributions of profits to shareholders (or their associates) in the form of loans.  Unless the loan comes within specified exclusions in Division 7A it is treated as an assessable dividend and taxed as a dividend. The Division 7A loan agreement enables you to satisfy these requirements so that your loan is legitimate in the eyes of the ATO.
This bundle includes:
Division 7A Loan Agreement Template
Agreement from company to shareholders that satisfies requirements of a loan under Division 7A of the income Tax Assessment Act 1936.  Includes:
Definitions
Interpretation
Advances
Interest
Term
Repayment
Yearly repayments
Statutory minimum repayments
Payments affected by the Act
Early repayment
Guarantee
Agreement is Suitable for secured and unsecured loans.  Most of the variables are in a Schedule to the agreement for ease of drafting.
12 pages long.
Loan Calculator
A loan calculator that enables you to calculate the repayments and a repayment schedule for the loan. Simply enter the loan amount, interest rate, term, commencement date and our loan amortisation will calculate monthly repayment AND give you a schedule of all repayments over the life of the loan including the due dates!
Practice Guide
A concise explanation of the law with links to legislation and ATO rulings. Everything you need to know in a couple of pages you can print our or send to your accountant.
Company resolution
In order for your loan to be effective it must be accepted by the company. To help you do this we have included a precedent for the appropriate company resolution. Simply put in your company and loan particulars and you are ready to go.
Precedents Online sells legal documents to the legal profession in Australia. The online legal documents are supplied by Kalde Legal Pty Ltd. Most of the copyright in the works available on this site vests in Kalde Legal Pty Ltd and the documents themselves have been created by practising lawyers.
Legal precedents sold on this site are available for immediate use.  Precedents shown on this site have been drafted by practicing lawyers and kept up to date with changes in the law.
Precedents Online. Powered by Kalde Legal.
Great service. Fast response and a good price.
Easy to follow the download procedure.  
Would definitely use again.
Jim - Director - Domain Tax Accounting
Looking forward to purchasing more precedents as it's a great service for a small legal practice just starting out.
Maree Stuart - Solicitor
I have been using Precedents Online for quite some time now for all my family wills, trusts and also when I started my business up with shares and found the documents very helpful.  I also was able to get immediate response to any questions I had relating to those downloads.  Love how easy it is.
John Eussen - Eussen Living Pty Ltd
I have used Precedents Online since starting up my business over 5 years ago.  There are many documents I was able to download and use to help with the start and running of my online business.
Amanda King - By The Horns
I have found Precedents Online to be very useful for my business.  I have also used them for personal legal documents.  Simple and easy to use.  I don't have to fill out any forms or subscribe.
Alan - Promoworld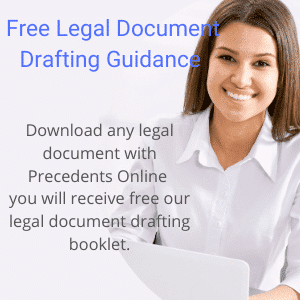 Why Choose Precedents Online
Money Back Guarantee.
Immediate attachment of the download with your confirmation email of purchase.
Word Document - Download save, edit and reuse as you require.  No Memberships or Subscriptions Required.
FREE Legal Drafting Booklet to guide you with drafting your legal documents.
Document Review Service by Lawyer.  Contact us for further information.
Cant find what you are looking for?  Search or Simply Contact us.
Contact US
support@precedentsonline.com.au