Consultancy Agreement
Download Consultancy Agreement in word format.  Download once in word, save and reuse as you need.
Consultancy Agreement via a Consultancy Company
This Consultancy Agreement is engaged via a consulting company, which promises to assign the consultant to do the consulting work and provide the expertise. Payment is conditional upon production of units of work.
This Consultancy Agreement contains the following clauses:
Interpretation
Engagement of the consultant
Term
Consultant to employ key employee?
Ownership of the work
Remuneration to be paid to the consultant
Restrictive covenant
No employment relationship
Disbursements
Confidentiality
Termination
Guarantee and indemnity
Notices
Governing law.
8 pages long.
Precedents Online sells legal documents to the legal profession in Australia. The online legal documents are supplied by Kalde Legal Pty Ltd. Most of the copyright in the works available on this site vests in Kalde Legal Pty Ltd and the documents themselves have been created by practising lawyers.
Legal precedents sold on this site are available for immediate use.  Precedents shown on this site have been drafted by practicing lawyers and kept up to date with changes in the law.
Precedents Online. Powered by Kalde Legal.
Great service. Fast response and a good price.
Easy to follow the download procedure.  
Would definitely use again.
Jim - Director - Domain Tax Accounting
Looking forward to purchasing more precedents as it's a great service for a small legal practice just starting out.
Maree Stuart - Solicitor
I have been using Precedents Online for quite some time now for all my family wills, trusts and also when I started my business up with shares and found the documents very helpful.  I also was able to get immediate response to any questions I had relating to those downloads.  Love how easy it is.
John Eussen - Eussen Living Pty Ltd
I have used Precedents Online since starting up my business over 5 years ago.  There are many documents I was able to download and use to help with the start and running of my online business.
Amanda King - By The Horns
I have found Precedents Online to be very useful for my business.  I have also used them for personal legal documents.  Simple and easy to use.  I don't have to fill out any forms or subscribe.
Alan - Promoworld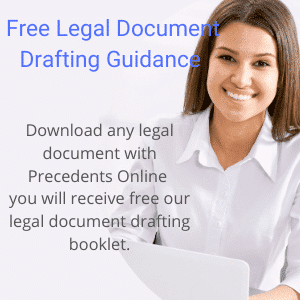 Why Choose Precedents Online
Money Back Guarantee.
Immediate attachment of the download with your confirmation email of purchase.
Word Document - Download save, edit and reuse as you require.  No Memberships or Subscriptions Required.
FREE Legal Drafting Booklet to guide you with drafting your legal documents.
Document Review Service by Lawyer.  Contact us for further information.
Cant find what you are looking for?  Search or Simply Contact us.
Contact US
support@precedentsonline.com.au